Support Flying Midwest Media and Help Us Soar Higher!
We absolutely love providing you with thrilling aviation content. However, bringing you our podcast comes with its own set of costs. If you'd like to help us keep those engines running, there are a few ways you can support Flying Midwest Media financially.
Check out our Flying Midwest merchandise, our patreon page, and check out our affiliates and sponsors.
Thank you for your support!
Become a Patron
By joining our Patreon community, you'll not only support us financially, but you'll also get access to exclusive content, including extra interviews, Jim's CFI Quest blog, and a look at Madi's early aviation blog. It's a win-win!
Ready to help us reach new heights? You can become a patron on our Patreon page. Your support is a tremendous boost to our journey, and we're incredibly grateful.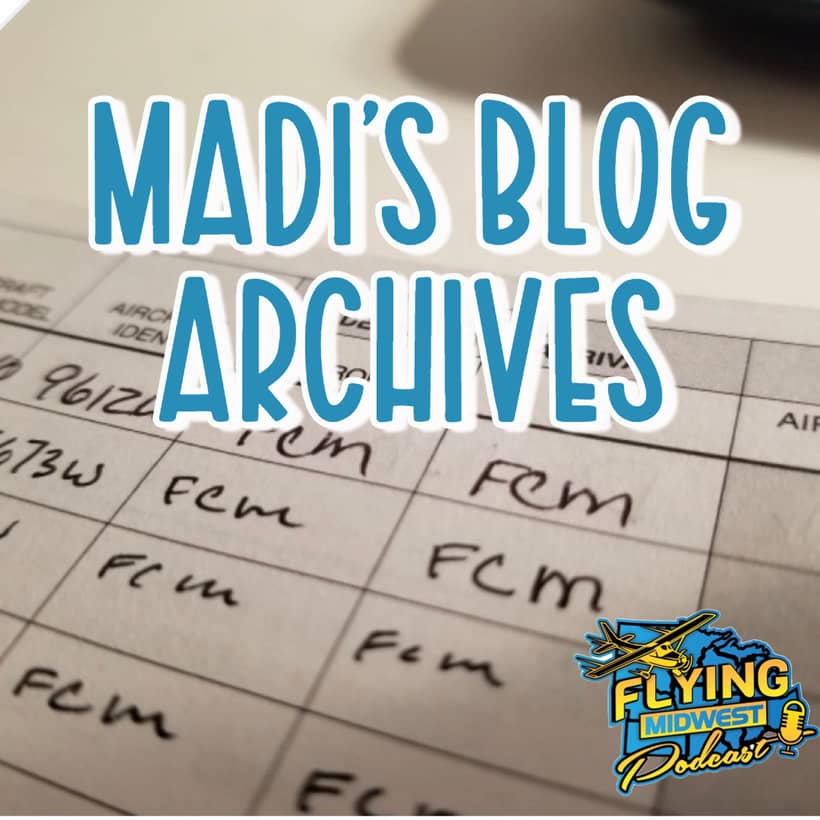 Gear Up and Support Flying Midwest Media
Looking to elevate your aviation style? Look no further! Flying Midwest Media offers an awesome range of merchandise to keep you looking fly and support your favorite aviation podcast.
What We Have for You:
T-Shirts: Whether it's a casual day out or an aviation event, our Flying Midwest T-shirts are the perfect choice.
Sweatshirts: Stay warm and cozy during those chilly flights or cool evenings with our stylish sweatshirts.
More to Come: Keep an eye on our store for new merchandise. We're always working on exciting new products.
Every purchase you make goes a long way in supporting Flying Midwest Media. Plus, you'll look fantastic sporting our podcast gear at your next aviation gathering.
So why wait? Gear up, look great, and support your favorite aviation podcast – Flying Midwest Media. Your style, our passion!
Flying Midwest Media is thrilled to partner with Pilot Quarters, where their motto is simple: "Take Flight Everywhere."
Established in 2021, Pilot Quarters is a family-owned business located in the heart of Michigan. They specialize in offering aviation-themed clothing and accessories that seamlessly blend artwork with navigational charts. Their products include a wide range of gear, from camp shirts to sundresses and stylish polos.
Why We Love Pilot Quarters:
Pilot Quarters is not just a brand; it's a passion for aviation that's beautifully expressed through their unique products. Their carefully designed clothing and accessories allow you to carry the spirit of aviation with you wherever you go. Each item features fabric patterns that showcase the intricate beauty of navigational charts, making them a perfect addition to the wardrobe of any aviation enthusiast.
Explore the Collection:
Ready to elevate your style with aviation-inspired apparel? Head over to Pilot Quarters' website and browse through their selection of high-quality clothing and accessories. Find your new favorite aviation shirt, dress, or polo and wear your passion for flight proudly.
Pilot Quarters is not just a sponsor; they're a part of the Flying Midwest Media family. Check them out today and discover a world where aviation and fashion blend seamlessly.
Sponsor Spotlight: Flying Eyes Optics
Flying Eyes Optics is your go-to for sunglasses and eyewear designed by pilots for pilots. Their commitment to creating eyewear that's both durable and comfortable ensures you're well-equipped for your aviation adventures.
Why We Love Flying Eyes Optics:
Sleek Design: Flying Eyes Optics' eyewear boasts a slim design that seamlessly integrates with any headset. This not only enhances your style but also creates a better seal for your headset, providing superior hearing protection and comfort.

Exceptional Range: With Flying Eyes Optics, you'll discover a fantastic array of eyewear options, tailored to meet the unique needs of aviators. From sunglasses that shield your eyes from the sun's glare to eyewear that is compatible with your prescription lenses, they've got you covered.
Special Deal for You:
As a special treat for our listeners, Flying Eyes Optics is offering a 10% discount on your purchase. Simply use the coupon code "FlyingMidwest10" when you make your selection.
Ready to Elevate Your Eyewear Game?
Visit Flying Eyes Optics and explore their outstanding range of aviation eyewear. Click here to browse their products and take advantage of this fantastic offer. By shopping through our affiliate link, you're not only getting top-quality gear, but you're also supporting our podcast, helping us keep it flying high.
Flying Eyes Optics isn't just a sponsor; they're a vital part of our aviation community. We're thrilled to have them on board, and we know you will be too. So, gear up and fly in style with Flying Eyes Optics
Proud Sponsor: Lightspeed Aviation
At Flying Midwest Media, we're committed to bringing you the best in aviation content, and that includes ensuring your safety and comfort. That's why we've partnered with Lightspeed Aviation.
Why We Love Lightspeed:
Lightspeed is renowned for creating exceptional ANR (Active Noise Reduction) headsets, with safety always at the forefront of their design. These headsets not only provide top-tier noise reduction but also come equipped with industry-leading safety features.
By shopping through our affiliate link, you're not only getting top-quality gear, but you're also supporting our podcast, helping us keep it flying high.
Ready to Elevate Your Aviation Experience?
Discover the world of Lightspeed Aviation and explore their exceptional range of products by visiting our affiliate link: Lightseed Aviation. Your safety, comfort, and support for our podcast are all just a click away.
Join us in expressing our gratitude to Lightspeed Aviation for their invaluable support. Together, we're reaching new heights in aviation.